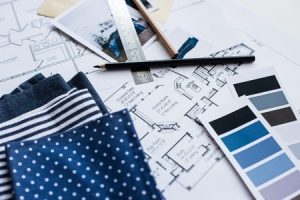 Fabrictopia sells scalamandre fabric at wholesale/discount rates. The name comes from the man who invented it back in the late 1920s: Franco Scalamandre. His name has since become synonymous with fine quality scalamandre fabric.
History
Franco Scalamandre received a doctorate in engineering in Italy. Then he came to the U.S.A. in 1924. He met and married Flora Baranzelli. She was a designer and painter. Together they started Scalamandre Silks. The company took off because it was started around the same time when more and more people were restoring historic houses and furnishings– and they loved Scalamandre's recreated historic fabrics.
From the 1930s through the 1960s, you could visit the Scalamandre Museum of Textiles in New York City, where you'd view historical textiles on display. During this time, Scalamandre did commission work for William Randolph Hearst's mansion, designing slipcovers for sofas and chairs. And he helped redo curtains at Thomas Jefferson's Monticello. He'd even work on designing intricate wallpaper for fancy restaurants like Gino of Capri. In 1961, though, Scalamandre got his biggest commission: redecorating the White House's public staterooms. His work included reproducing 19th century textiles for drapery and upholstery in the Blue and Red rooms. Ever since then, Scalamandre's stock and custom woven textiles have been used to help refurbish items in the White House under various administrations.
Synonymous With Fine Fabric
In 1988, Franco Scalamandre passed away, but his name lives on. Not only is the name associated with fine fabric, wallcoverings and trims, but his work can be seen in more than 1,000 historical restorations around the country at prestigious places like the White House, the U.S. Capitol, Mount Vernon, and other important places.
Today, if you're looking for beautiful fine design with style, elegance and vitality, scalamandre fabric should be your choice. As the standard bearer of imported and domestic fine textiles, scalamandre fabric is used for high-end wallcoverings, trims, furnishings and more. As a premier decorative brand, the scalamandre name is all about luxury.
Fabrictopia has locations in Houston, San Antonio and Dallas. Serving Texas and beyond, Fabrictopia is the place to get great prices on wholesale fabric orders. Use our contact page for more information about acquiring scalamandre fabric for your upcoming projects.